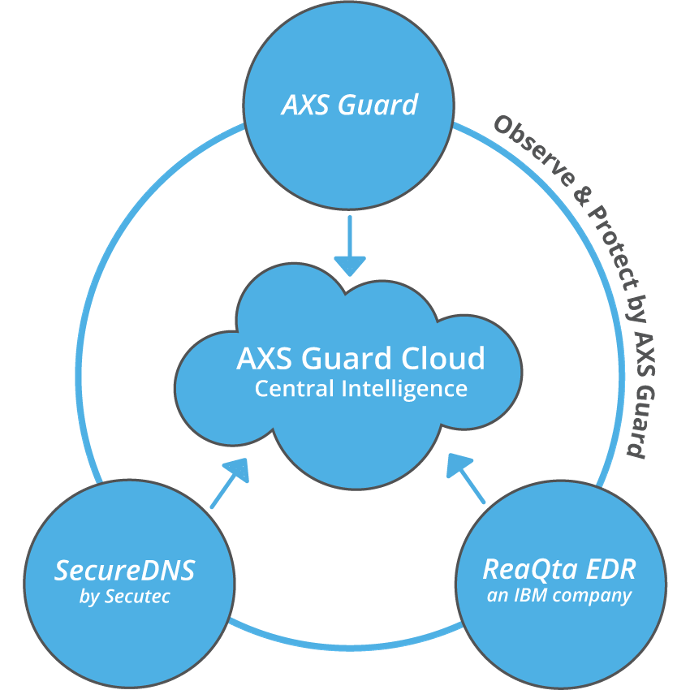 Customized Cybersecurity for Every Business.


Ransomware, phishing, hacking — no one remains immune.
AXS Guard's Observe & Protect is a comprehensive, high-performance, and user-friendly solution, empowering companies to independently manage their cybersecurity and enhance their cyber resilience.
We fortify each company's network comprehensively, spanning all network layers, with a primary focus on a preemptive approach.
With Observe & Protect, you get enduring security tools that remain perpetually updated.
Furthermore, you have the option to entrust the round-the-clock, daily monitoring and management of your infrastructure to the AXS Guard MSSP team.
"Managed Cybersecurity has Never Been Simpler!"

Observe & Protect Offering
"All-in-one, worry-free solution"
Comprehensive and customizable

Easy to manage and user-friendly
A zero-trust approach to cybersecurity
"AXS Guard takes care of it all for you!"
Short on time, finding it too complex, or facing a shortage of resources?
Is it the absence of adequate knowledge, the inability to allocate time for monitoring, uncertainty about a situation, or any other reason?
Worry not. We present a comprehensive cybersecurity solution meticulously tailored to your company or organization. Through Observe & Protect - the managed cybersecurity service by AXS Guard - your concerns become a thing of the past.
Our team of experts handles your day-to-day cybersecurity needs, including:
Proactive Cyber Threat Prevention: We ward off potential cyber threats.

​Data Analysis and Correlation: We collect and analyze data from diverse sources.


Active Detection and Threat Mitigation: We actively identify and block hacking, ransomware, phishing, botnets, and other malicious threats.

A​ssistance in Mitigating Cyber Threats: We assist in resolving cybersecurity issues.

Regular Situation Updates: We keep you informed about your cybersecurity landscape.

Enhancement of Cyber Resilience: We work to boost your ability to withstand cybersecurity challenges.
Whether your organization is small or large, confined to a single site or spread across multiple locations, be it in an office setup or while working remotely from home, as a Managed Security Service Provider (MSSP), we ensure that you can rest easy knowing your cybersecurity is in capable hands.


"AXS Guard is the Belgian standard for safeguarding your company against cyber threats."

1. Health Check
We start with an initial security and system health assessment of your network and infrastructure. This evaluation helps us to identify specific security requirements.

2. Installation & Configuration
We set up and configure all the necessary components to ensure a secure environment, allowing you to rest easy. Furthermore, we consistently monitor your network environment.

3. Service Activation
Enjoy uninterrupted cybersecurity 24/7 with the added benefit of monthly reports. Our dedicated team of
AXS Guard experts is available at all times to provide technical support and assistance.
What else is included?


A worry-free, all-encompassing cybersecurity solution

Thorough and routine Health Checks for your existing configurations

Uninterrupted monitoring that operates 24/7, every day of the year

Dedicated support during extended office hours (*)

Preemptive threat mitigation

Proactive search for cyber threats (threat hunting)

Personalized customer service and technical support provided by your local partner

Access to your dashboards and reporting tools

Diligent tracking of all configuration adjustments
With Observe & Protect managed services by AXS Guard, you have direct access to proficient cybersecurity experts who possess expertise in specialized domains such as risk assessment, vulnerability management, forensics, and incident response.
(*) 08:00 AM - 10:00 PM, Monday through Sunday.