AXS GUARD - REMOTE WORKSPACE
Safely access your office computers from anywhere without any additional software.

Do you recognize the following situations?
You want to double-check a few things from home the evening prior to an important business meeting, but the information you need access to is stored on a company server.

You unexpectedly have to work from home, but you left your computer at the office.
At such moments, a secure and easy solution to access the corporate network without having to go through the hassle to set up a VPN connection or other complicated software would be an invaluable asset.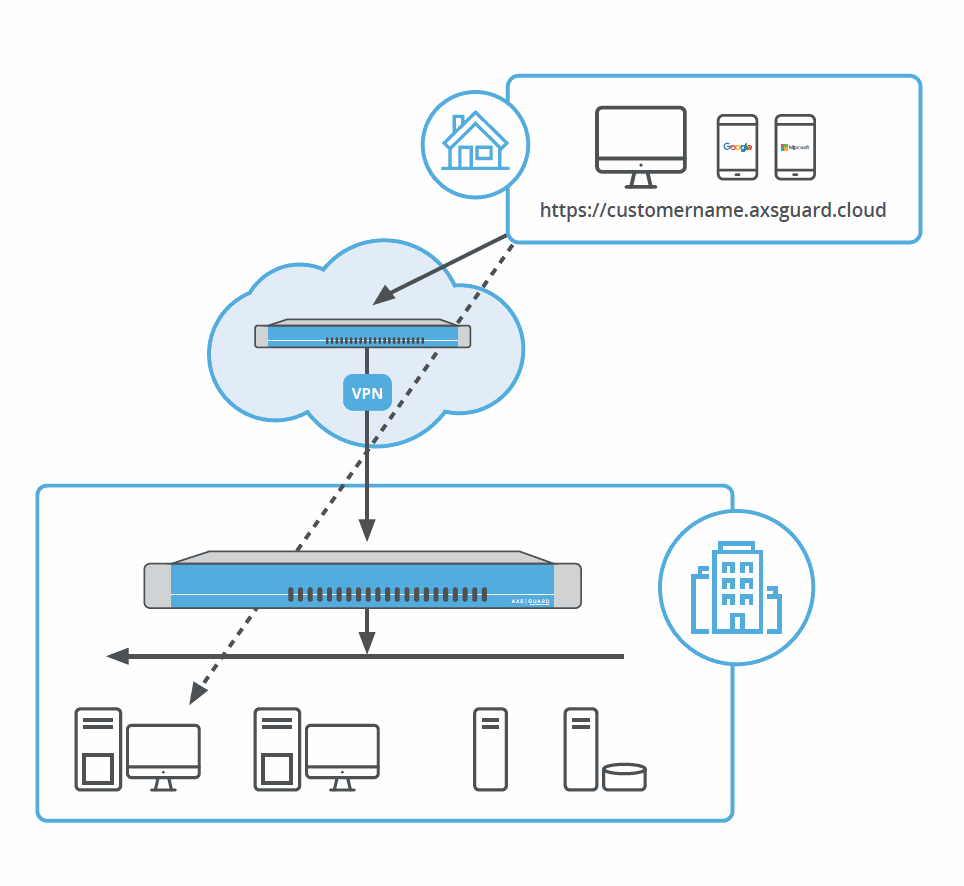 EASY
Remote Workspace is a security add-on for AXS Guard. Access policies are centrally managed and tailored to each individual user.
Users simply use a web browser to access their desktop at company headquarters.

NO EXTRA SOFTWARE
The icing on the cake: users don't need to set up complicated software or a VPN connection.
Only a computer with a recent browser and access to the internet is required.
100% SECURE

Network traffic between the user's browser, the Internet, the corporate network and remote computers is secured by AXS Guard.
Strong authentication is also available (sold separately).
TECHNICAL SPECIFICATIONS
AXS Guard Remote Workspace leverages the following technologies:
HTML5 capable Internet browsers (Chrome, Firefox, Safari, Edge)

SSL encryption

Strong user authentication, e.g. Google and Microsoft Authenticator apps, DIGIPASS tokens

An on-premise RDP, VNC and SSH capable AXS Guard server component which handles internal connections to company computers and servers.

Supports Microsoft Windows, Mac OS and Linux.
FeatureS
RDP access to internal computers

VNC access to internal computers

SSH access to servers

Strong user authentication

Individual access policies per user