FEATURES

A complete overview: Software, Appliance & Services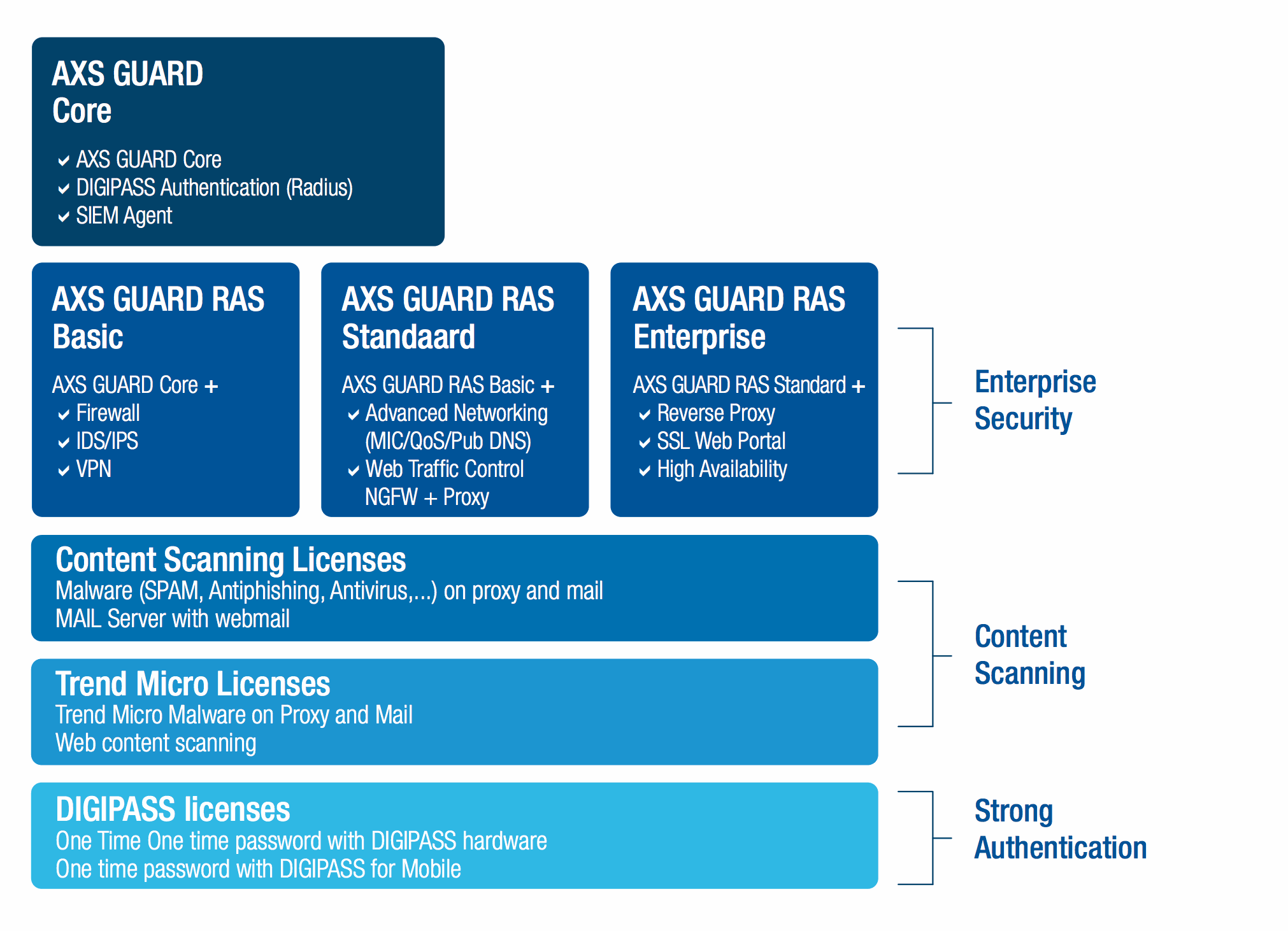 AXS GUARD is designed for administrators who want an all-in-one solution for Internet connectivity and security.
More than 25 functional features are bundled together into 3 software packages with additional content scanning and authentication licenses. Each software bundle can run on one of the five available physical or virtual AXS GUARD platform allowing organisations of any size to choose the most suitable combination of performance and features. Should you require additional features, you simply can upgrade to another software bundle, even without switching the hardware appliance.
An automated updating and licensing system will remotely push the new features to AXS GUARD avoiding lengthy upgrade or installation procedures as your current configuration will continue to run as before.
Basic features include:
Web-based GUI for appliance administration

Wizard based installation

Clickable status overview and health monitor

Automated configuration check

Automated license upgrade tool

Manual or automated upgrades, with pre-testing

Automated online updating system

Back-up

Group- and user based configuration allowing easy and secure setup

LDAP Synchronisation (users/groups)

Complete set of network protocols

Internet connectivity

Static DHCP Client PPTP PPPoE DHCP server(s)

NTP client and server

DNS server

VLAN support Bridging and bonding of network interfaces

Dynamic DNS support

Ping and trace route tool

Network Traffic Analyser

Device Application Statistics
SECURITY
Application Firewall with DMZ & IPS
Web & Email Content scanner & filter
Multiple Anti-virus & anti-spam engines
Anti spyware & Anti phishing
Intrusion detection & prevention
Active system attack monitoring
Strong User Authentication
...
COMMUNICATION
VPN server with VPN e-tunnels
SSL VPN
Internet Redundancy & load balancing
Reverse Proxy
Web proxy server
E-mail server
Mail relay server
Webmail interface
...

REPORTING & STATISTICS

Web surfing statistics
e-mail usage statistics
Traffic statistics
Health statistics
Monitoring
Logging
...

CONTROL
Bandwith management (Quality of Service)
High Availability
Multiple Internet lines
Audit functionalities
...

AXS GUARD SOFTWARE BUNDLES & OPTIONS
AXS GUARD has three different software bundles to choose from allowing you to select the most suitable solution to address your company challenges. Each bundle adds additional functionalities on top of the previous bundle, turning AXS GUARD in a future proof solution that grows with your business Depending on your needs with regards to network connectivity, you can select the appropriate bundle.
On top you add Content Scanning and Strong User Authentication features.

The Basic Remote Access Solution bundle allows your users to connect in a secure way to the local network. The bundle was designed for the SME market, offering small and medium companies a simple solution to connect remote users while providing full protection by AXS GUARD.
The Standard Remote Access bundle offers web traffic control and additional network connectivity tools, on top of the Basic bundle




The Enterprise Remote Access bundle offers secure web-based access to your network on top of the STANDARD Bundle




CONTENT SCANNING BASIC
CONTENT SCANNING STANDARD

STRONG USER AUTHENTICATION


AXS GUARD APPLIANCES
AXS GUARD software can run on different hardware. The platforms only differ in performance and in the number of available network connections. AXS GUARD hardware is meant to last. We choose industry hardware. This ensures that AXS GUARD appliances have a longer lifetime than other comparable systems on the market.

AXS GUARD can also run as a virtual appliance